10 protests that rocked the Philippines
Protesting has long been part of our history. And the successful anti-pork barrel rally on Monday underscored this.
There have been other big, important protests in the past.
Some were high-profile events that attracted worldwide action. Others were little-known acts of defiance that nevertheless had a huge impact in our history.
As promised, here are 10 Filipino protests that rocked the country in the past half century.
It must be stressed that this is, no doubt, an incomplete list. I'm sure there are other historic demonstrations that we could add to the list, particularly in the Visayas and Mindanao.
Still, just so we can put what happened on Monday in broader context, let's start with these: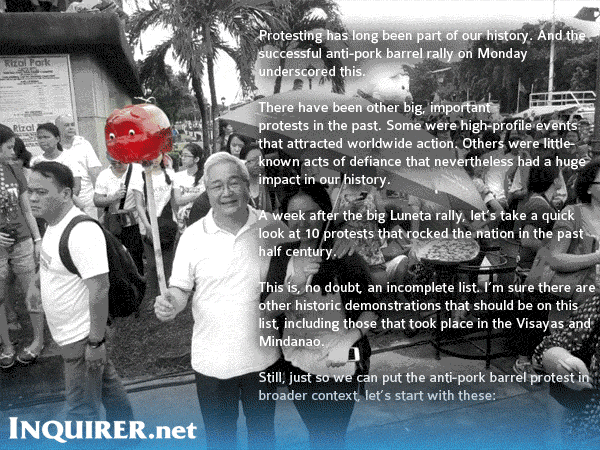 Subscribe to INQUIRER PLUS to get access to The Philippine Daily Inquirer & other 70+ titles, share up to 5 gadgets, listen to the news, download as early as 4am & share articles on social media. Call 896 6000.