POEA warns job hunters about e-mail scams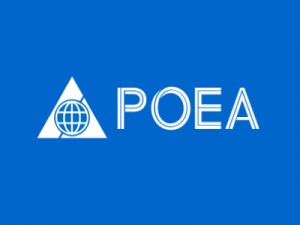 MANILA, Philippines—The Philippine Overseas Employment Agency is warning Filipinos seeking employment abroad about e-mail scams offering jobs as nannies in the United States.
"Other than nurses and other medical professionals, swindlers are also targeting unsuspecting applicants offering them job as nanny in the US," said  POEA administrator Hans Leo Cacdac.
Cacdac's warning comes in the wake of a memorandum he received from labor attache Luzviminda Padilla endorsing the case of a Filipino national  who requested assistance from the Philippine Overseas Labor Office in Washington DC.
The Filipino sought assistance in verifying a job offer from one Martin Bishop for a job as nanny for Mrs. Julie Adams of 206 Springfield Avenue, Newark, New Jersey 007114 USA. In the job offer,  Bishop identified himself as a lawyer associated with Macroberts Solicitors based in New Jersey.
Cacdac said the victim remitted $276.99  via Western Union to a certain Qunesha Clewis of 1520 Sepulveda Ave., Apt. G, San Bernardino, California in connection with the job offer.
Upon verification, the Washington labor office found out that Martin Bishop, Julie Adams, and Qunesha Clewis were all fictitious names invented by the scammer.
Padilla cited another case of a Filipina who was also offered a job as nanny by a certain Dr. Mark Balek of New York Hospital.  She was also directed to send $300 via Western Union to a person in Malaysia.
When the labor contacted the office of Dr. Balek, his secretary said it was all a scam and denied that he was hiring a nanny and claimed that this scam has been going on for some time.
According to Cacdac, Padilla reported that she has already sought the assistance of the Philippine Embassy's police attache to request the Federal Bureau of Investigation to probe the cyber crime.
Subscribe to INQUIRER PLUS to get access to The Philippine Daily Inquirer & other 70+ titles, share up to 5 gadgets, listen to the news, download as early as 4am & share articles on social media. Call 896 6000.