Malaysia in Borneo standoff with armed intruders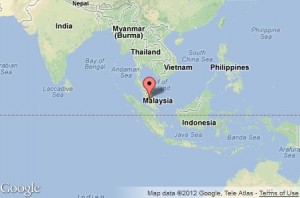 KUALA LUMPUR, Malaysia—Malaysian security forces have surrounded armed intruders on Borneo who are believed to be from the southern Philippines, police said Thursday.
The intruders have been ordered to surrender their weapons, national police chief Ismail Omar said, adding that "the situation is under control and the public need not worry."
Ismail's statement late Wednesday did not disclose the number of suspects or how they were armed. Malaysia's national news agency, Bernama, cited unidentified police sources as saying that the intruders comprised more than 100 foreigners wearing military fatigues.
Malaysia's Sabah state is less than an hour by speedboat from Mindanao, which has long been wracked by a Muslim separatist insurgency.
Ismail said the group landed in Sabah's largely rural, coastal district of Lahad Datu on Tuesday following "troubles in the southern Philippines."
Other police representatives in Kuala Lumpur and Sabah on Thursday confirmed the intrusion but said they could not elaborate beyond Ismail's statement.
Security on Malaysia's sea border with the Philippines has been problematic for Sabah, where tens of thousands of Filipino have tried to immigrate over the past few decades.
In 2000, gunmen from Mindanao slipped twice into Sabah and abducted people for ransom, including tourists from a diving resort.
One of the most recent kidnappings involved two Malaysians snatched from a plantation in Lahad Datu in November. They were believed to have been taken to Mindanao.
Inquirer calls for support for the victims in Marawi City
Responding to appeals for help, the Philippine Daily Inquirer is extending its relief to victims of the attacks in Marawi City
Cash donations may be deposited in the Inquirer Foundation Corp. Banco De Oro (BDO) Current Account No: 007960018860.
Inquiries may be addressed to Inquirer's Corporate Affairs office through Connie Kalagayan at 897-4426, ckalagayan@inquirer.com.ph and Bianca Kasilag-Macahilig at 897-8808 local 352, bkasilag@inquirer.com.ph.
For donation from overseas:
Inquirer Foundation Corp account:
Inquirer Foundation Corp. Banco De Oro (BDO) Current Account No: 007960018860
Swift Code: BNORPHMM
Subscribe to INQUIRER PLUS to get access to The Philippine Daily Inquirer & other 70+ titles, share up to 5 gadgets, listen to the news, download as early as 4am & share articles on social media. Call 896 6000.