Philippines supports rearming of Japan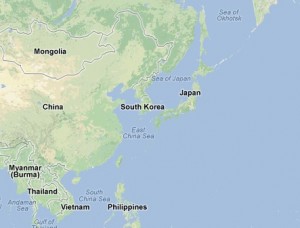 The Philippines would support Japan dropping its pacifist constitution to become a fully fledged military force and act as a balance against a rising China, the spokesperson for the Department of Foreign Affairs (DFA) said Monday.
"I think we would welcome something like that," DFA spokesperson Raul Hernandez quoted Foreign Secretary Albert del Rosario as saying in an interview with a reporter from the Financial Times of London.
In the interview, Del Rosario said the Philippines would strongly support a rearmed Japan—its World War II enemy—as a counterweight to what it sees as Chinese provocation.
"We are looking for balancing factors in the region and Japan could be a significant balancing factor," he told the paper amid growing tensions over the South China Sea, almost all of which is claimed by China.
Del Rosario's statement about a stronger security partner came as Philippine diplomats and defense officials prepared for two days of talks with their US counterparts.
The Third Bilateral Strategic Dialogue, which opens Tuesday, will discuss, among other matters, the Philippines' territorial dispute with China in the West Philippine Sea.
Hernandez confirmed the government's view that Japan should upgrade its military from a self-defense force so that it has more freedom to operate in the region.
"[Del Rosario] said we are in favor of Japan's gaining strength," Hernandez said.
Japan occupied the Philippines for more than three years from December 1941, during which suspected guerrillas were tortured and executed, and many Filipino women were forced into prostitution to serve the occupying Army.
The war claimed at least a million civilian Philippine lives, according to historians.
Conflicting claims
The interview with the Financial Times comes shortly before a general election in Japan where the front-runner, opposition leader Shinzo Abe, has said he wants to revise the country's pacifist constitution, imposed by the United States after the war.
China claims most of the South China Sea, including waters close to the shores of its neighbors. These areas include major sea-lanes and are believed to hold vast mineral and oil resources.
China's claim is contested by the Philippines as well as Brunei, Malaysia, Taiwan and Vietnam, which have overlapping claims to some or all of those same areas.
In April, Chinese patrol vessels prevented the Philippine Navy from arresting a group of Chinese fishermen at the Panatag Shoal (Scarborough Shoal), which is within the Philippines' 370-kilometer exclusive economic zone (EEZ).
Manila says China has continued to station patrol vessels in the area even after the Philippines withdrew its vessels and called for a peaceful resolution to the dispute according to international law.
Earlier this month, the Philippines asked China to clarify press reports Chinese authorities had authorized its forces to interdict ships entering what Beijing considers its territorial waters.
China and Japan are also in dispute over islands in the East China Sea that are controlled by Tokyo.
Hernandez said he had talked about the Financial Times interview with Del Rosario. He said Del Rosario stressed he "would welcome a stronger Japan, which together with other partners would serve as a balancing factor in the region."
Peace process
"We know very well no country by itself has the capacity to address the security requirements of this region. And so it is to our interest to seek stronger partners and to have stronger alliances in the region," Hernandez quoted Del Rosario as saying.
Asked what the Philippines would want Japan's role in the region to be, Del Rosario replied that the country wanted Japan to "support a peaceful process in solving issues here and to be one of the partners as far as security alliances and partnerships are concerned," Hernandez said.
But Hernandez said there were no talks going on between the Philippines and Japan and that Del Rosario only responded to questions during the interview with the Financial Times.
Announcing the Manila-Washington talks through a statement yesterday, Del Rosario said the Philippines looked forward to deepening further its engagement with the United States.
The talks will be cochaired by Foreign Undersecretary and now new Philippine Ambassador to China Erlinda Basilio and Defense Undersecretary Pio Lorenzo Batino for the Philippine side and for the American side by US State Department Assistant Secretary Kurt Campbell and Defense Assistant Secretary Mark Lippert.
Agenda
According to  Assistant Foreign Secretary Carlos Soreta, head of the DFA American Affairs section, the two countries will discuss issues on the economy, rule of law, diplomatic engagement and defense.
Soreta said the meetings would move forward Philippine-US relations while good now, "because it gives more detail and a benchmark for us."
"We've formalized it all the more, in a way holding each other with certain commitments and that we understand these commitments and go past diplomatic euphemisms," he told reporters.
Soreta said the two countries would discuss rule of law involving the West Philippine Sea dispute, as this was one of the important aspects of the country's advocacy of a peaceful settlement of conflicting territorial claims in the sea.
"This is [of] interest not only to us but [also to] any country who wants to support us [in] achieving a peaceful solution," he said.
More joint exercises
Soreta said the Mutual Defense Board and the Security Defense Board would also meet after the strategic dialogue.
After the talks, he said, it can be expected that there will be increased joint military exercises between the Philippines and United States, as well an increase in the number of troops participating and the number of activities and the areas to be covered.
Soreta said he did not expect increased US presence to aggravate tensions between the Philippines and China in the West Philippine Sea. With a report from AFP
Subscribe to INQUIRER PLUS to get access to The Philippine Daily Inquirer & other 70+ titles, share up to 5 gadgets, listen to the news, download as early as 4am & share articles on social media. Call 896 6000.