DFA hopes China would listen to 'voice of international community'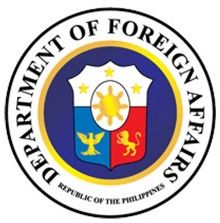 MANILA, Philippines – The Department of Foreign Affairs (DFA) on Monday said that it hoped that China would listen to the "voice of international community" after it sought Beijing's clarification of a reported plan to board foreign ships sailing through what it claims to be its territory in the West Philippine Sea (South China Sea).
In a press conference, DFA spokesperson Assistant Secretary Raul Hernandez noted that since April, the DFA had been talking with China "and doing up formal consultations for thirty-six times already" so that the issue of the disputes in the West Philippine Sea (South China Sea) could be resolved peacefully using international law.
"We have also been using the offices of the Association of Southeast Asian Nations (Asean) and of the other international fora to bring this matter to China so that this could be resolved peacefully in accordance with international law and we are hoping that China would listen to the voice of the international community," Hernandez said.
When pressed by reporters if the department expected an answer from China, Hernandez said: "We are a responsible member of the international community, and China is also expected to be a responsible member of the community of nations so we expect that and we are hoping that they would clarify this issue not only with the Philippines but with the community of nations."
Chinese state media had reported that new rules, which would come into effect Jan.1, would allow police in the Southern Province of Hainan to board and seize control of "foreign vessels that illegally enter Chinese waters."
The DFA had earlier said that it sent a note verbale to the Chinese embassy in Manila seeking clarification of the reported plan, saying that if confirmed to be accurate, it should be
"condemned by the international community as it violates maritime domains of countries in the region and impede freedom of navigation."
"If media reports are accurate, this planned action by China is illegal and will validate the continuous and repeated pronouncements by the Philippines that China's claim of indisputable sovereignty over virtually the entire South China Sea is not only an excessive claim but a threat to all countries," the DFA said in an earlier statement.
Hernandez, in the press conference, noted that China had yet to issue a reply to the note verbale but that the DFA had also made representations with the Chinese foreign ministry through the country's embassy in Beijing and that "we're hoping that they would reply as soon as possible."
Aside from the Philippines, Vietnam, Malaysia, Brunei and Taiwan also claim all or part of the territories in these waters, which are believed to be rich in oil, mineral and marine resources.
Asean Secretary General Surin Pitsuwan had also expressed concern over China's latest move, saying it was an escalation of tensions in the region and was a cause of "great anxiety" among disputing parties.
China, meanwhile, sought to dispel tensions, with a foreign ministry spokesperson saying that Beijing paid importance to freedom of navigation in the South China Sea.
"The navigation freedom countries enjoy in the South China Sea according to international law should be protected. China attaches importance to maintaining navigation freedom in the South China Sea. There is no problem with it," Foreign Ministry Spokesperson Hong Lei told a Chinese press conference on Nov. 30.
When asked about the issue, Hong Lei said that China "carries out maritime management according to international and domestic laws."
"On the issue of the South China Sea, it is China's clear and consistent position to safeguard national territorial sovereignty and rights and interests. We are also committed to solving disputes with our neighbors through friendly consultation and negotiation," he said.
Subscribe to INQUIRER PLUS to get access to The Philippine Daily Inquirer & other 70+ titles, share up to 5 gadgets, listen to the news, download as early as 4am & share articles on social media. Call 896 6000.