Experience Boracay in peace and quiet
MANILA, Philippines—Stealing away to Boracay island for the summer may not be everyone's cup of tea nowadays, with possibly thousands queuing to stretch out on its famous powdery white sands but tucked amongst the hotels brimming with tourists is a luxurious beach resort where one can truly experience Boracay in peace and quiet.
Nestled within Sitio (sub-village) Cagban in Manoc-Manoc village is businessman Choy Cojuangco's two-hectare beachfront resort Asya Premier Suites Boracay where guests can bask under the sun without running into hundreds more vacationers on the island—it's like having the Boracay's White Beach or Station 3 all to yourself.
Located at the southern tip of the famed island, Asya Premier only has 20 suites available and prides itself for having privacy as its main offering for clients, according to its resident manager, Sabrina Salvador.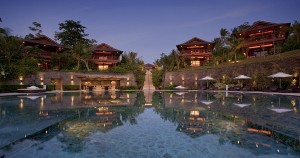 The resort gets mostly foreign guests but have stuck to a look that stayed true to its roots—the Philippines, said Salvador.
"Since we are in the Philippines, we should be Filipino and not Balinese [or] European," she maintained, pointing out that they added a "modern twist" to their Filipino theme for a "more contemporary
[design that is] relevant with the times."
The resort treats its guests as soon as they step onto Caticlan soil by ferrying them off to Boracay island on board speedboats and upon their arrival at Asya Premier, they will be greeted with a view of how
the beach resort's architecture seemingly blends easily with nature—its sprawling structures and open spaces mixing well with abundant plant life while ensuring privacy for its visitors.
Salvador shares that the landscaping was meant to look as natural and not too manicured to achieve a look that was "as native to the place as possible."
Walking down the stone steps leading down to the resort's courtyard, with the sounds of water trickling from a series of interconnected ponds, is enough to soothe guests who are likely tired from their
journey—the circular infinity pool taking up most of the courtyard is also a wonderful surprise to most visitors.
The view by the pool alone is spectacular enough to make one gape for a minute or two at its sheer beauty. Guests can either swim while taking it all in or simply lounge on ottomans flanking the pool, and
appreciate nature while sipping a cool drink.
There are two types of suites at Asya Premier, the premier and presidential ones are both quite spacious with earthy yet stylish furniture and enormous baths which will make even the most finicky guest breathe a sigh of relief.
The 110 square meter premier suite has its own veranda overlooking the rest of the resort and beach, ensuring that guests can enjoy the view at the privacy of their own suite.
Meanwhile, the presidential suite boasts of utmost privacy of a secluded villa with its own mini pool and pocket garden at its patio where guests can either wade to cool off or lounge in the chairs while
basking in sunlight—from up there a spectacular view of the resort and the beach can also be seen.
The suites' calming interiors beckon weary travellers to kick off their shoes and loosen up after a tiring trip with an option to stay at their suites to relax or take a peaceful stroll along White Beach.
Pathways and stairways from the suites lead guests towards many of the resort's attractions like its restaurant Palay and Adlaw bar but the main event is of course Boracay's white sand beach and its pristine waters.
But a relaxing vacation is not complete without the scrumptious feasts that Asya Premier's restaurant Palay has to offer—serving dishes made from the freshest ingredients kept simple and mouth-watering.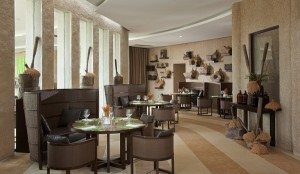 Salvador said that Palay Restaurant specializes in fusion cooking and that although they mainly served guests at the resort, they also accepted walk-ins and bookings for groups wanting to take a trip to
Asya Premier solely for the purpose of dining at their award-winning restaurant.
The restaurant on its own is quite a vision with its stone walls flanked by rich vegetation. It also lives up to its name as ornaments gracing not only its tables but also its wallsare stalks of palay (rice) which have been tied in bunches and used as decor along with coconuts, twigs and all sorts of native produce.
Also, keep an eye out for a strangely wonderful-looking carabao-shaped creation in the middle of the garden at Palay Restaurant. It is surprisingly life-like that we just had to approach it during our visit.
After dinner, guests can sit back, relax and sip cocktails from a bar named after the sun in Visayan: Adlaw.
Asya Premier is even more popular as a wedding destination for many of those who know of it. Salvador said that couples could book the entire place for their wedding ceremonies—and treat their guests to a private paradise in Boracayisland.
The resort will take out all the fuss out of planning a wedding by providing its wedding packages which provide services from creating a to-die-for wedding cake, buffet menus, exquisite floral arrangements and setting up those dreamy wedding ceremonies by the sea.
Give them a call at (+6336) 288.1790 or visit www.asyapremier-boracay.com for more on their packages and rates.
Subscribe to INQUIRER PLUS to get access to The Philippine Daily Inquirer & other 70+ titles, share up to 5 gadgets, listen to the news, download as early as 4am & share articles on social media. Call 896 6000.